Nous vous l'avions promise, elle est là! Une bien belle interview de Marko Djurdjevic, en français mais aussi en anglais.
Marko talks about the conception and the creative process concerning DEGENESIS: Rebirth Edition.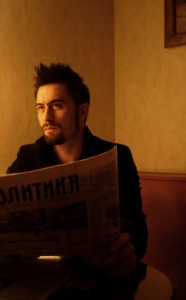 ---
Rôliste TV- Bonjour Marko, alors que Degenesis va sortir en France, que pourrais-tu dire à quel'qu'un qui n'en a jamais entendu parlé et que peut-on en attendre?
Marko Djurdjevic- Une grande histoire. Un grand système. De magnifiques illustrations. On en a vraiment pour son argent. Des bandes annonces filmées. Une grande équipe. Plein de trucs gratuits.
Rôliste TV- Pour mieux te connaître, en tant que joueur, quels ont été tes jeux préférés et ceux auxquels tu aimes jouer?
Marko Djurdjevic- Je jouais beaucoup dans ma jeunesse, entre 13 et 21 ans ans. J'ai grandi avec des systèmes comme Runequest, le World of Darkness mais aussi des systèmes de jeu peu connus comme Talistanta [ah oui…NDLR]  et Skyrealms of Jorune [ah oui, bis] et d'autres jeux de niche. Pour ma part, j'ai toujours été attiré par des systèmes qui avaient une sorte d'impact visuel et qui n'étaient pas seulement centrés sur un défilé incessant de textes et règles. Maintenant j'ai à peine l'occasion de jouer mais j'aime toujours le jdr en tant que medium.
Rôliste TV- Quelles sont tes influences principales en tant que fan et lecteur?
Marko Djurdjevic- Trop nombreuses pour toutes les énumérer.
Rôliste TV- Revenons sur le jeu, peux-tu dire en quelques mots ce en quoi il diffère des autre jeux post-apocalyptques?
Marko Djurdjevic- DEGENESIS est du Primal Punk. La plupart des jeux et propriétés intellectuelles post-apocalyptiques suivent le postulat suivant: Un gros événement survient (une bombe nucléaire, une pandémie, le Jugement Dernier), 30 ou 35 ans plus tard presque tout le monde est mort, les survivants sont réunis t sur ses es ruines et toutes les hommes restant sur la planète se battent pour les outils de survie les plus primordiaux : les armes et l'essence. En même temps, personne n'est assez intelligent pour faire pousser des pommes de terre ou s'unir  pour reconstruire ce qui a été perdu.
Le monde de DEGENESIS décrit un scénario qui est plutôt différent. Nous voulions explorer un monde dans lequel, 500 ans après une catastrophe dévastatrice, l'humanité essaye de revenir vers la lumière dans la douleur. De nouvelles structures et idéologies apparaissent, de nouvelles religions réunissent les croyants, des Cults/Sectes arrivent au pouvoir et déclarent avoir trouvé de nouvelles manières de reconstruire le passé glorieux et elles fournissent logis, protection et armes à leurs membres. Mais parallèlement à cela, la volonté de survie de l'humanité est contrecarrée par un nouvel ennemi, Homo Degenesis (qui donne son nom au jeu), ce qui mène à de fantastiques drames et conflits.
Rôliste TV-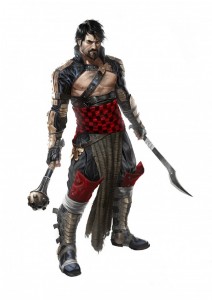 Quelle a été la génèse (ah ah!) du jeu il y a une décennie de cela? D'où as-tu tout puisé?
Marko Djurdjevic- En abrégé: le jeu est né en 2003 à Berlin. Nous avons créé le première édition avec une passion toute juvénile et sans penser au futur. Ainsi, même s'il a eu un succès modeste, il y avait des défauts dans le système et sa présentation. J'ai arrêté de travaillé sur le jeu original vers 2005 et j'ai vaqué à mes propres occupations. Chris a continué à s'en occuper jusqu'en 2008/2009. En 2012 je suis tombé sur quelques fans de la première heure et j'ai vu des photos d'une convention de jdr qui étaient vraiment impressionnantes. Simultanément, je venais juste de créer un groupe de jdr au bureau et nous jouions une campagne de DEGENESIS. Il n'a pas fallu longtemps avant que je n'appelle Chris pour lui demander s'il en était pour relancer le jeu en reprenant tout à zéro,  réparer les vieux défauts et refaire tout l'univers pour un public de maintenant. Au début nous avions juste prévu une version mise à  jour avec de nouveaux dessins mais en fin de compte, plus nous travaillions sur ce reboot, plus on ajoutait et on modifiait, pour finir par avoir un redesign complet après 2 ans de travail ininterrompu.
Rôliste TV- Y avait-il des points que vous souhaitiez éviter à tout prix pour cette nouvelle mouture?
Marko Djurdjevic- Etre obsessionnel avec les règles, de mauvais dessins et une écriture indigente.
Rôliste TV- Un des aspects les plus frappants du jeu est l'énorme somme d'information. Quel a été votre processus créatif en ce qui concerne le monde de cette deuxième édition? Beaucoup d'éditeurs auraient décidé de faire plusieurs  suppléments pour décrire l'intégralité du monde pourquoi avez-vous décidé de tout donner en un seul (gros) coup?
 Marko Djurdjevic- Parce que chaque élément dans le jeu est en relation avec  un autre. On ne peut pas en décrire une partie sans toucher une autre. On aur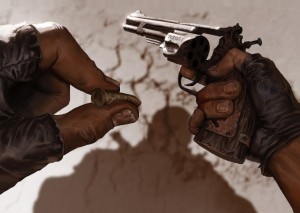 ait pu bien sûr tout fragmenter en plusieurs publications et gagner plus d'argent mais pour quoi faire? Nous voulions un système de base qui couvre tous les aspects du jeu et du monde pour que l'on n'ait besoin que d'un seul achat pour se mettre dans le bain et apprécier le jeu dans tout son potentiel. Quand on commence la première campagne on n'a pas besoin de 95% de tout ce qui est décrit dans les 2 livres mais, pourtant, quand on avance et que l'on commence à creuser l'univers, vous trouverez bien plus utile d'avoir toutes les informations à portée de main quand vous en avez besoin ou quand vous voulez planifier à l'avance. C'est une une approche holistique (qui englobe tout) de la création et de la construction interne du monde.
Rôliste TV- Sur la plan esthétique, votre jeu est fabuleux. Est-ce c'était dans les plans initiaux quand vous avez commencé à travailler sur cette édition?
Marko Djurdjevic- Merci. J'ai toujours voulu relancer le jeu de la manière la plus marquante possible sur le plan visuel. Une partie de moi pense que cela rend les choses plus faciles pour les joueurs et MJs pour conceptualiser les choses, au lieu de les décrire sur 10 pages. Si vous montrez les choses, elles peuvent être vraiment comprises sur plan émotionnel, elles expriment un certain ressenti. Ainsi il est plus facile d'évoluer dans l'atmosphère et l'environnement d'un monde différent. Cela vaut aussi pour les personnages, ennemis, animaux avec lesquels les joueurs vont interagir et s'associer. Sans indicateurs visuels ni paramètres, les choses tendent à devenir génériques et floues. Bien sur, on doit encore ajouter des descriptions pour certaines choses mais c'est une deuxième couche. Je pense que l'écriture et les dessins doivent aller de pair pour qu'un produit soit crédible et sorte du lot. C'est une des raisons principales pour laquelle nous avons passé tant de temps sur la direction artistique et l'aspect visuel du jeu. Des illustrations aux logos, des symboles au design des armes, les choses doivent sembler appartenir au même univers. Cela ajoute de l'épaisseur au monde et donne le ton général.
Rôliste TV- Est-ce que vous avez mis de l'expérience acquise chez Marvel dans Degenesis  (et pas seulement au niveau de la production)?
Marko Djurdjevic- Comme j'ai créé DEGENESIS avant ma période chez Marvel, je ne dirais pas que j'ai été influencé par cette période. J'ai plutôt suivi mes propres standards et tenté  de créer quelque chose que j'aurais acheté moi-même. Si je voyais quelque chose d'authentique dans un magasin-où je pourrais voir que 2-3 gars ont sué sang et eau pour créer quelque chose qui combine à la fois des illustrations et une histoire en une unification visuelle- je dépenserais plutôt mon argent sur cela, plutôt que sur un livre magnifiquement écrit  avec des illustrations médiocres ou avec de superbes images mais une écriture terne.
Rôliste TV- A parcourir le jeu, je n'ai pas pu m'empêcher de remarquer une influence certaine de Vampire La Mascarade. Pas seulement à cause des différentes « factions » (les 3 C) auxquels le sPJ peuvent appartenir, mais aussi avec les citations et l'écriture assez soutenue. Etait-ce un fil conducteur dont vous êtes parti à dessein ou une simple coïncidence?
Marko Djurdjevic- Vampire a été une inspiration mais elle  est loin d'être la seule. DEGENESIS a été influencé par toutes sortes de livres, jdrs et de films, de Conan à Mad Max en passant par Cthulhu. Les éléments de ces propriétés intellectuelles ont servi d'inspiration à la construction et à la mise en forme de cet univers. Le système de création de personnage « 3C » est probablement un de mes aspects préférés du jeu. Couplé avec le Rank-System, il permet une incroyable variété entre les membres du même Cult. Vous pouvez facilement jouer un groupe fait d'un seul Cult comme les  Judges, Spitalians or Hellvetics et pourtant chaque personnage semblera unique à cause des variables de la génération de personnage. Dans son essence,  Culture représente la  Nationality/Mentality, Concept l'Archetype/Motivation and Cult reflète votre Ideology/Foi ou Conviction. Ainsi, on a un très large spectre de variations potentielles qui amènent des combinaisons vraiment uniques sur le long cours.
Rôliste TV- Un autre point commun est le potentiel fantastique du jeu quant à l'histoire. Comment pensez-vous l'exploiter? J'ai vu qu'une adaptation BD avec Warren Ellis à la barre allait être produite. Est-ce que cela sera une extension officielle de l'univers qui aura un impact sur le jeu?
Marko Djurdjevic- Nous ne voulons pas limiter DEGENESIS seulement au marché du JDR.  Nous voyons le potentiel de narration à travers bien des medias et nous pensons aussi que l'univers est suffisamment vaste pour explorer d'autres supports. C'était une des raisons pour laquelle no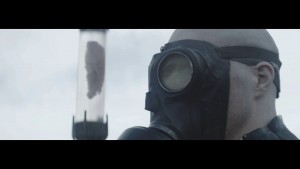 us fait les bandes annonces en tout premier lieu.  Personne n'avait fait cela avant et nous pensions qu'il était temps de changer cela. Et nous avons même ajouté des transmissions audio à utiliser en partie à notre dernier livre qui vient de sortir DEGENESIS: IN THY BLOOD , incluant des manières d'améliorer l'expérience de joueur autour de la table. Avec le temps nous allons fouler pas à pas  de nouveaux territoires. Nous recherchons au studio de nombreuses manières d'incorporer DEGENESIS dans différents mediums, à toucher à de l'animation, aux  jeux videos format « pixel game », bds, contes de fées et à bien d'autres couches d'exploitation. Notre prochain livre en cours de production s'appelle DEGENESIS: THE KILLING GAME et comportera un grand setting de campagne dans la côte sud de la Franka. L'intrigue de l'aventure avec ce supplément sera autour des villes de Toulon, Montpellier et Perpignan.
---
And now in English:
Rôliste TV- Hello Marko, as Degenesis RE is about to be released in France, what would you say to someone who has never heard of it and what he can expect from it?
Great Story. Great System. Great Art. Great Layout. Great Production Value. Live Action Trailers. Great Community. Great Team. Lots of free stuff.
Rôliste TV- So as to better know you: as a player, what have been your favorite games and the ones you enjoy playing. 
I used to play a lot during my youth, form the age of 13 to about 21. I grew up on systems such as Rune Quest, the World of Darkness but also obscure systems like Talislanta, Skyrealms of Jorune and other more niche oriented games. Personally I always felt attracted to systems that had some sort of visual impact and weren't focused on endless rows of text and rules. Nowadays I barely get a chance to play but I still enjoy rpg's as a medium itself.
Rôliste TV- What are your main influences as a fan and a reader?
Too many to number.
Rôliste TV- Back to game, can you say in a few words how it differs from other post- pocalyptic rpgs?
DEGENESIS is Primal Punk. Most post-apocalyptic games and intellectual properties follow a similar premise. Some big event happens (nuclear bombs, pandemics, judgement day), 30-50 years later almost everyone is dead, the survivors gather in ruins and every human left on the planet is fighting for the most primitive tools of survival: guns & gasoline. At the same time, no one is smart enough to grow potatoes anymore, or to band together to rebuild what is lost.
The world of DEGENESIS describes a rather different scenario. We wanted to explore a world, in which 500 years after a devastating catastrophe, mankind tries to crawl back to the light. New structures and ideologies arise, new religions gather the faithful, Cults rise to power and proclaim that they have found ways to rebuild the glorious past and they offer shelter, protection and weapons to their followers. But at the same time, mankind's will to survive is thwarted by a new enemy, Homo Degenesis (after whom the game is named) which leads to grandiose conflict and drama.
Rôliste TV- What was the genesis (ah ah) of the game, more than a decade ago? Where did it all come from?
The very short version: The game originated in 2003 in Berlin. We created the first edition with a lot of juvenile passion and lack of foresight. Thus, even though it was moderately successful, there were flaws in the system and the entire presentation. I quit working on the original game around 2005 and did my own things. Chris eventually kept going for a while until he discontinued his work around 08/09. The game didn't progress for quite some time and was only kept alive by the fans who were still active on the boards after 10 years. In 2012 I stumbled across some of these old fans and saw photos of LARP events that were highly impressive. At the same time I had just established a new RPG group at my office and we were playing a campaign of DEGENESIS. It didn't take long before I called Chris to ask him if he was down with us rebooting the game from scratch, fixing the old flaws and revamping the whole universe for a modern audience. Initially we just planned an updated version with new art, but eventually, the more we worked on the reboot, the more we ended up adding and changing, until we had a complete redesign after 2 full years of work.
Rôliste TV- Were there any points you wanted to avoid at all cost for this new edition, ?
Obsessive rules, bad art, bad writing.
Rôliste TV- One of the most striking features is  the massive amount of information. How was your creative process concerning the background of this second edition? Many publishers  would have decided to deliver it on several supplements to describe the whole world so why did you decide to give it all in one (heavy) shot?
Because every element in the game relates to another element. You can't describe one part without touching up on another. Sure, we could have easily broken it down into different publications and take more cash by selling different books, but for what? We wanted a core system that touches on every aspect of the game and the world, so you'd only need a single purchase to go ahead and enjoy the game to it's fullest. When you start your first campaign, you won't need 95% of the stuff that is described in the two books, but still, as you progress and start digging deeper into the universe, you'll find it a lot more helpful to have all the information accessible when you need them or start planning ahead. It's a holistic approach to design and the inner workings of the world.
Rôliste TV- Aesthetically-wise, your game is astounding. Was it in the initial plans when you started working on this second edition?
Thank you. I always wanted to reboot the game as visually impactful as possible. Part of me believes that it makes it easier for the players and game masters to see how things look, instead of describing it across 10 pages. If you show things they can be understood on a very emotional level, they express a certain feeling. Thus it is easier to navigate within the mood and environment of a different world. This is also true for the characters, enemies, animals the players will interact or associate themselves with. Without visual indicators and parameters things tend to become generic or nondescript. Obviously you still need to add description to certain things, but thats a secondary layer. I believe both writing and art must go hand in hand for a product to be believable and stand out. That is one of the major reasons why we spent so much time on the art direction and the layout of the game. From illustrations to logos, to symbols, to weapon designs, things need to feel like they belong to the same universe. It adds to the consistency of a universe and sets the overall tone.
Rôliste TV- Did you put some of the experience you learnt at Marvel into Degenesis  (and not only concerning its production)?
Since I designed DEGENESIS prior to my time with Marvel I would't say that it was influenced by that period. Rather, I followed my own standards and tried to create something that I would like to buy myself. If I saw something in a store that was authentic – where I could see that 2-3 guys labored over the product for a very long period of time and tried to create something that combines both art and story in visual unification – I'd much rather spend my money on that, then let's say a superbly written book with sub-par illustrations, or awesome looking pictures with bland writing.
Rôliste TV- Going through the game, I could not help but noticing a notable influence of Vampire The Masquerade. Not only because of the various « factions » (the 3 C) PC can belong to, but also the quotations or the quite elaborate phrasing here and there. Was it a pattern you started from on purpose or was it just coincidental?
Vampire has been an inspiration, but by far not the only one. DEGENESIS has been influenced by all kinds of books, rpg's and movies , from Conan, to Dune, to Mad Max, to Cthulhu. Elements of these properties served as inspiration to building and designing this universe. The 3C character creation system is probably one of my favorite aspects of the game system itself. Coupled with the Rank-system it allows an incredible variety between members of the same cult. You could easily play a party consistent of just one Cult, such as Judges, Spitalians or Hellvetics and still, every character would feel unique due to the effective variables in the character generation. In it's essence, Culture stands for Nationality/Mentality, Concept stands for Archetype/Motivation and Cult reflects your Ideology/Faith or Conviction. Thus, you have a very wide spectrum of potential variations which lead to some very unique combinations in the long run.
Rôliste TV- Another common point is the fantastic potential of the game, story-wise. How do you plan on exploiting it? I've seen a comic version with Warren Ellis at the helm will be produced. Will it be an official extension of the universe that will have an impact on the rpg?
We don't want to limit DEGENESIS to just the RPG market. We see the potential of storytelling and narrative across many mediums and we also think the universe is vast enough to explore in different mediums. That was one of the reasons why we did the live action trailers in the first place. No one had done this before for an RPG and we felt it was time to change that. Also, we just added in-game audio transmissions to our newly released book DEGENESIS: IN THY BLOOD, featuring ways to enhance the player experience at the table. We will enter new territories with time and step by step. At our studio we are researching many ways of incorporating DEGENESIS into different mediums, dabbling with animation, pixel games, comics, fairy tales and many other layers of exploitation.
Our next book, currently in the works, is titled DEGENESIS: THE KILLING GAME and will feature a large campaign setting at the Southern coast of Franka. The plot of the accompanying adventure will focus around the cities of Toulon, Montpellier and Perpignan.