Aujourd'hui, une interview toute en décontraction de Maître Sinh, l'homme derrière 500 nuances de Geek et surtout Fate, dont la campagne est un vrai succès grâce à plusieurs modifications de paliers qui ont permis au jeu de vraiment décoller. Amoureux (à juste titre) de ce jeu, chapeau bas pour tous ses efforts afin que les joueurs francophones puissent se perdre dans tous ces univers.
La campagne est par ici, une vraie nouveauté dans le jeu, un jeu du présent qui nous a conquis, même le plus vieux d'entre nous, que nous ne nommerons pas…
NB: cette interview a eu lieu au début de la campagne et certains jeux ont été débloqués..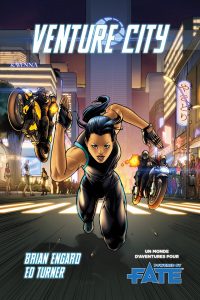 Bonjour Maître Sinh. Venant un peu de nulle part, nous avons vu l'apparition d'une énorme (par la quantité proposée) vague de produits Fate en financement participatif. Après la première campagne, tu avais tout de suite eu l'idée de faire une suite?
Oui. En F
ate
..heu en fait, tout à commencé avec
Spirit of the Century
. A ce moment la, la suite était programmée. C'est un peu pareil avec Dungeon World. Quand on a fait la boite rouge, on pensait qu'il y aurait une « bleue » dans l'avenir. Ca a pris un petit plus de temps mais on y est. D'ailleurs, une campagne DW est prévue pour la rentrée 2017, sur le même principe que celle de
Fate
: fournir à la communauté les suppléments qu'elle attend pour faire vivre les jeux.
 T'attendais-tu à ce que le financement soit atteint aussi vite?
Pas du tout. Et pas autant de pledges aussi gros. Même si on avait préparé ça avec la communauté.
Il y avait eu 266 participants lors de la première campagne. Financée en quatre heures on peut voir avec ce nouveau CF un plus grand nombre de joueurs. Que peux-tu dire de la communauté

Fate

en France quant à son profil?
On a peu de chiffres, mais ils sont quand même assez parlant. La communauté G+ de Beket accueille dans les 350 joueurs, et encore, G+ est peu fréquenté. Ensuite, ce qui se vend en boutique et juste « ce qui reste », mais l'accueil est très bon, donc je dirais que ça suit le même chemin qu'aux USA.
Et pour ceux qui ne connaissent pas, que peux-tu dire de

Fate

qui reste un grand inconnu avec ses dés étranges?
Fate
, c'est un peu le retour des systèmes génériques, mai ça lorgne plus du coté d'un Simulacres que d'un Gurps. Je pense que son succès est lié a son coté simple et pas simpliste : le système est qualitatif – basé sur les aspects – et moins sur les chiffres. D'ou les dés « Fudge » dont tu parles.
De plus, il est très plastique et permet aux MJ de donner des ailes a leurs idées en créant leurs univers plutôt qu'en leur imposant quelque chose. C'est comme leur donner tout ce qu'il faut pour leur cuisine !
Le jeu et ses suppléments sont-ils facilement trouvables, toi qui avais laissé entendre lors de la première campagne que les tirages ne seraient pas pléthoriques? 
Je ne sais pas dans quelles boutiques il est dispo, mais ce qui est sur, c'est qu'il ne doit plus en rester beaucoup….
La nouvelle campagne est-elle accompagnée d'un nouveau tirage?
Pour la boite à outils 1 : oui, parce que le tirage était trop petit. Pour le reste, je ne sais pas encore. Ca va dépendre des comptes.
 La particularité de ce jeu générique est de ne pas avoir de suppléments par thème (SF, Fantasy) mais par mondes. Tu en proposes plusieurs qui couvrent tous types d'histoires (même les Secrets des Chats…). Pour lequel as-tu le plus d'affection?
Pour être franc : ce que moi j'attends le plus n'y est pas encore ! (il se trouve dans les paliers mystères…)
Nous avons eu des retours de spectateurs quant au prix et des « blocs » que l'on doit prendre sans trop de possibilité d'individualiser les contreparties. Que peux-tu répondre à ces personnes? Certains mondes débloqués seront-ils disponibles ultérieurement dans la campagne comme contreparties uniques.
 La réponse a ta deuxième question répond a la première :  tous les livres seront disponibles individuellement au fur et a mesure qu'ils sont financés. On les rajoutera en pledge.  On ne force la main à personne. Ceux qui veulent attendre peuvent attendre. Ceux qui sont déjà fans et veulent faire le pari avec nous peuvent le faire.  Mais c'est sur que ce sont eux qui rendent tout cela possible. Déja, on aurait pas pu atteindre l'objectif en 4 heures sans eux. Donc ça profite à tout le monde. C'est un peu l'idée de cette expérience.Un pari sur la communauté. Nous coté offre, tout est prêts. Ce qui nous permet d'anticiper en la proposant.
As-tu pour projet d'offrir d'autres traductions de mondes inédits (comme Atomic Robo ou Romance in The Air) ou de traductions de jeux motorisés par

Fate

comme Dresden Files (dont les romans sont disponibles chez Bragelonne) voire Part-Time Gods qui est un bijou  en

Fate

?
ahah. tu veux percer à jour tous les paliers mystères hein ? Je te répondrai un mystérieux : qui sait…
Mais c'est sur que depuis
ExoGlyphes
, je réfléchis beaucoup à l'articulation littérature jeux. En parallèle de la traduction/publication de la Laverie (The Laundry)  de Charles Stross (à haut contenu poulpique) on prépare un jeu (De Bastien Wauthoz – bien connu pour son implication sur
Dungeon World
) et pour la rentrée 2017, dans la grosse campagne « Apocalypse », on présentera jeu tiré d'un gros classique de la SF cher a mon cœur: Tschai, en collaboration avec Mnemos.
C'est un scoop !
Je dépense un point

Fate

et j'utilise mon aspect « Fan du jeu curieux »: peux-tu nous en dire plus sur les paliers mystères?
Les paliers mystères sont…comment dirais je…mystérieux. Oui, c'est ça ! Mystérieux 🙂 Sérieusement, on commencera à les révéler quand on arrivera au palier 3. Mais attention hein, ceux qui attendaient devront pas venir pleureur quand les gros pledges limitées seront épuisés…les jeu seront dispos séparément, mais ça sera moins avantageux.
Et pour finir, quel aspect invoques-tu pour cette campagne?
Adepte des modèles éditoriaux mutants peut être ?
 (on a été les premiers sur ulule en 2011, sans parler de La Caravelle et d'ExoGlyphes )