Voici donc le résumé des jeux présentés par Mathieu. Bien sûr, n'hésitez pas à mettre en commentaire tout jeu oublié et vos retours d'expérience!
Fate avec une campagne Ulule en cours où le monde Venture City couvre les Super Héros. Ce genre ainsi que la Science Fiction ne sont que survolés par le livre de base.
Gurps: le parrain de tous les jeux avec ses nombreux suppléments.
SimulacreS: Idéal pour de l'initiation, il montre son âge sur certains points mais fonctionne toujours aussi bien. Vous pouvez retirer bien des paramètres pour n'en garder que le squelette et il fonctionnera très bien. Et les règles sont trouvables gratuitement!
Nous avions déjà abordé ce jeu ici. Et revoici la table dont Mathieu a parlé, clé de voûte du jeu.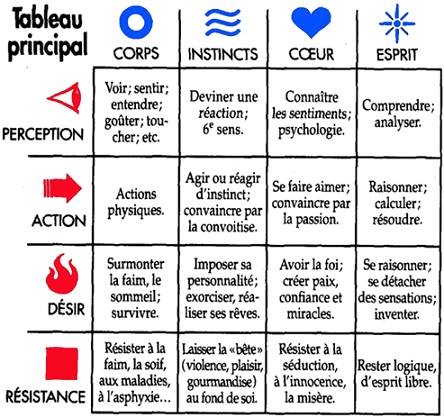 Cypher System: Disponible chez Philibert. Gods of the Fall est déjà disponible et à la suite d'un Kickstarter, cinq autres titres vont suivre dans toutes les types d'univers (Unmasked poour les super-héros notamment et Predation pour la SF)
Cortex System, qui motorise Firefly, le chouchou actuel de Mathieu, un système proche de Fate quant aux aspects, où la force d'une caractéristique, comme dans Savage Worlds va de 1d4 à 1d12.
Bien sûr (comme signalé)
Torg,  le Hero System, Rift avec le système Palladium sont autant de systèmes utilisables.
Corpus Mechanica de Yno.
On rajoutera le DK System et Chroniques Oubliées se declinant en diverses moutures pour ceux qui ne suivent pas Casus Belli. Si la version Fantasy existe bien dans le commerce, la SF, l'urban fantastique, le pulp sont tous disponibles au fur et à mesure des numéros. Comme l'anneau, vivement un volume pour tous les les réunir.