Voici donc venu notre dernier Tour d'Horizon de l'année 2016 qui fut bien chargée. Toute cette année nous avons parlé des resorties de Clive Barker et nous n'allons pas faillir à notre habitude, tant se replonger dans l'oeuvre de cet écrivain quelques 20 ans plus tard est jouissif. On peut se rendre compte à quel point ses écrits ont influencé des genres et surtout comment il a créé un genre unique, auquel les autres se comparent.
Coldheart Canyon est plus récent que les autres romans présentés, et écrit en 2001 il constituait une sorte de retour à l'époque. Comme souvent, il s'agit d'un roman qui fait des va-et-viens dans le temps et il a pour thème un Hollywood des coulisses, le Hollywood plus sombre, loin des paillettes qui nous sont données à voir. On sait que Barker a lui-même été très décu par le cinéma et nous suivons Todd qui subit lui aussi les dégâts de l'industrie. Son chapitre 3 page 344 est d'ailleurs un bijou de cynisme et d'horreur 4 pages….
Todd Pickett a connu la gloire des écrans de cinéma, mais sa carrière d'acteur est désormais sur le déclin. Refusant de se voir reléguer au bas du box-office, il décide de recourir à la magie de la chirurgie esthétique… Or le résultat s'avère catastrophique, et il est obligé de fuir d'urgence les caméras.
Il choisit pour cette retraite forcée l'ancienne résidence d'une comédienne de l'âge d'or hollywoodien, une maison nommée Coldheart Canyon, connue pour avoir été à l'époque le lieu de nombreuses soirées de débauche. Et d'excès bien plus sinistres, comme Todd, entraîné dans une spirale macabre, va bientôt le découvrir…
Nous nous plongeons tout d'abord dans la fascinante époque du Hollywood des années 20 par l'entremise de la troublante et franchement terrifiante Katya Lupi. Ce sont les ambiances à la Bloch (Le Crépuscule des Stars) ou Campbell (The Grin of the Night) qui montrent à quel point l'image n'est qu'un mensonge et que la gloire du muet cache souvent quelque chose de sordide. La série American Horror Story en sait aussi quelque chose dans sa première saison, possèdant bien des échos de Coldheart Canyon.
On trouve toutes les composantes essentielles du genre (voir d'ailleurs notre soupçon sur Hollywood). La vamp qui crève l'écran, le personnage à la gloire passée et tentant de rester à flot, la présidente du fanclub qui ferait tout pour Todd, les orgies décadentes (et Clive était très inspiré, et dans tous les sens du terme, pour ce roman) ainsi que la superbe demeure, ses « habitants » et son sous-sol.
Katya Lupi est un personnage qui sort directement de Vampire, une Toreador brûlée, ses acolytes sont autant de pnj pour une oeuvre éminemment adaptable. La propriété est un délice de découvertes (et on y rencontre des invités bien connus, rappelant American Horror Story Hotel qui s'en est inspiré, là aussi) et elle est un personnage à part entière, notamment avec sa fresque maudite qui transforme tant les gens, constituant une des nombreuses intrigues qui s'entremêlent avec délice, comme si souvent chez Barker. Entre Imajica, Sacrements ou le Royaume des Devins, on goûte avec Coldheart Canyon à l'étendue d'une oeuvre profondément polymorphe.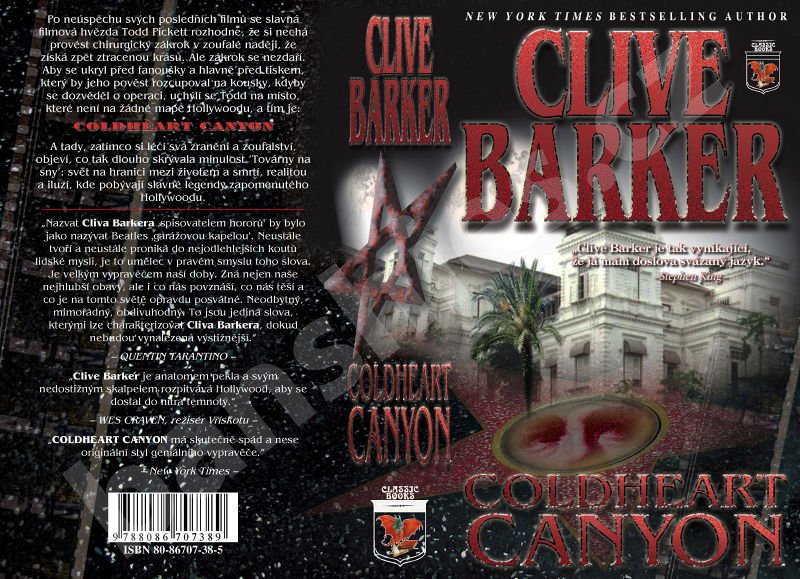 Si la force visuelle est toujours aussi forte, il faut néanmoins souligner la longueur de l'oeuvre qui a certainement une centaine de pages de trop. Le rythme imposé est mesuré au début pour une mise en place minutieuse et s'emballe par la suite en un rythme parfois déconcertant. Cela pourra laisser un pantois le lecteur peu habitué à Barker. Pour les autres, ils seront habitués car le rythme (ou plutôt sa maitrise) est le talon d'Achille de l'auteur, ayant du mal à calibrer ses oeuvres. Une autre mise en garde est à faire non pas tant sur l'aspect extreme des scènes d'horreur mais surtout sur celles de sexe qui sont véritablement au-dessus de tout ce que l'on a connu chez Barker, comme s'il avait cherché à faire une surenchère un peu douteuse pour son retour. Passés ses deux reproches, une fois le livre fini, les images restent et flottent, mélange unique d'horreur et de poésie et Tammy, la présidente du fan-club de Todd au penchant un peu à la Annie Wilkes (Misery), Dempsey (le fidèle compagnon) ainsi que Katya resteront assurément à vos côtés.
Côté ludique, tous les jeux sombres auxquels vous jouez seront les bénéficiaires évidents de cette intrigue folle et parfois vertigineuse de ce très bon cru. C'est là la force de Barker: proposer au lecteur 1001 situations parfois dans un agencement qui aurait mérité plus de rigueur mais qui contribuent à chaque fois dresser des tableaux somptueux aux multiples facettes.