En ce samedi glacial, nous vous adressons à tous (et par écrit cette fois) nos meilleurs voeux, vous qui formez la communauté  de l'Ann  RôlisteTV. Communauté sans cesse croissante, pour notre plus grand plaisir. Nous vous souhaitons toutes les plus belles réussites pour cette année à venir et de trouver (garder) le bonheur.
Qu'en est-il donc d'un 2017 ludique? On pourrait souhaiter avoir des crowdfundings à l'heure, mais il faut tout de même rester réaliste. Mais jetons quand même quelques souhaits dans la marmite des 3 sorcières.
Tout d'abord, souhaitons voir des crowdfundings sur des jeux peu connus, il existe tant à découvrir et faire découvrir.

La variété est le souhait que nous appelons. Et si nous arrêtions de voir le énième jeu de médiéval fantastique au background insipide mais que l'on nous vend comme inspiré parce qu'il y a une chronologie, une carte, des noms avec des apostrophes et/ou des lettres inutiles?
Plus de jeux Cubicle 7 en français. Victoriana, Rocket Age, leur superbe gamme Cthulhu et bien sûr Doctor Who sont de vraies pépites qui démontrent toute l'intelligence et la subtilité de maison d'édition de la perfide Albion.
Et enfin, et surtout, du temps. Du temps pour se retrouver en vrai et s'évader en mots. Du temps pour s'évader dans des mondes parfois abominables mais bien plus beau que le nôtre. S'évader dans des mondes sans limite. S'évader avec les copains, qu'ils soient nouveaux ou vieux de la vieille. S'évader avec nos compagnons de dés (et de pizza et autres breuvages) pour notre drogue à nous, pour nos aventures quelque part nulle part, si lointaines et si proches.
Ce temps pour finir ce que nous commençons, pour commencer ce que nous écrivons, pour écrire ce que nous imaginons…
Bref, une année 2017 glorieuse, faite des plus belles décisions, des plus jets de dés. Et de quelques échecs critiques dont on parlera pendant 1D8+2 ans avec moult rires et lumière dans les yeux.
D'une manière plus individuelle, Mathieu souhaite: Continuer à explorer la SF et jouer à Eclipse Phase quand je serai à page 3000, continuer ma campagne DC comics/Cyberpunk, faire jouer Maze of Blue Medusa, finir Ghosts in the Black de Firefly. Et voir un jeu de rôle sur Terremer d'annoncer.
Fabrice notre monteur international souhaite: Jouer plus et d'enfin faire jouer certains jeux que j'accumule sans vraiment les faire jouer pour diverses  raison. Donc je ne suis dis que je partirai sur une formule de One-shot tous les mois,  peu importe avec qui, des amis ou personnes sur internet en utilisant Roll20. Pour le mois de janvier par exemple ce sera sur Ryuutama puis Bloodlust. J'avais tendance à dénigrer le one-shot car on ne voit pas vraiment tout l'intérêt d'un jeu sur une partie. Mais organiser de nouvelles campagnes est trop contraignant en terme de temps et de disponibilité des joueurs. Sinon, j'avais dans l'idée que lorsqu'une de mes campagnes régulières (D&D5) prend fin, je me lancerai dans du Star Wars mais avec deux équipes de joueurs qui tournent chaque semaine: l'une du coté lumineux et l'autre du coté obscur. Concernant les jeux à sortir: Scion V2 et 7th Sea. Aussi j'ai commencé a créer des tuiles modulaires pour mes cartes D&D qui va me permettre une fois que j'aurai un bon stock de ne plus passer trop de temps sur des maps et surtout d'avoir une map dans mon style avec un joli rendu.
Guillaume souhaite découvrir les jeux qui ont marqué l'année 2016 avec quelques parties de Degenesis, mais aussi Knight dont il a débuté une campagne avec les auteurs (Simon Gabillaud et Coline Pignat). 2017 sera également l'année pour tester des jeux hors-marché et personnels, mais nous reviendrons sur cela un plus tard. Sinon comme à son habitude, découvrir des petits et des grands jeux mais, avant tout, jouer.
Nicolas »tuto Perso » souhaite  le jeu de rôle de Freak' Squeele qui devrait sortir en février.
Et Vincent souhaite « Ecrire, écrire, écrire ! Des articles, des jeux de rôle, des nouvelles … Lire c'est bien, écrire c'est mieux! »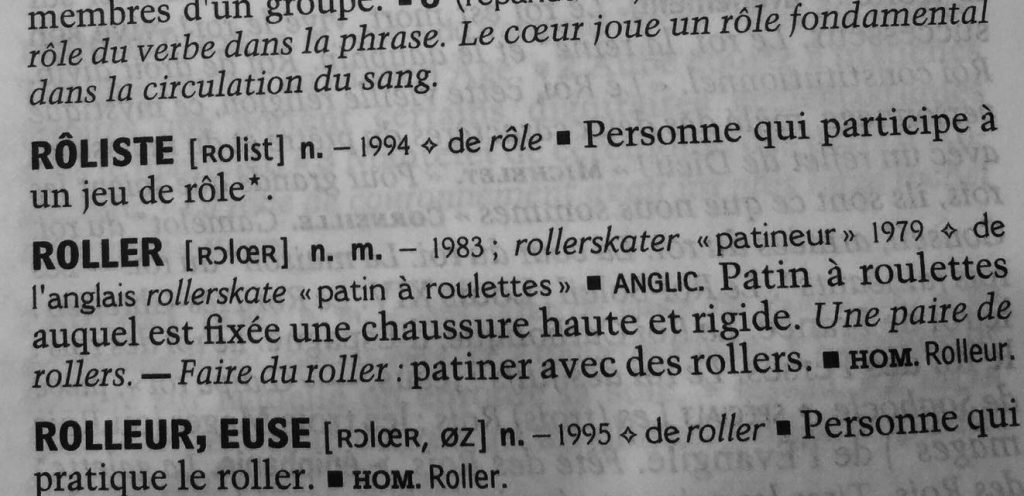 Et l'on va finir par une grande fierté (Merci Mr Pierre Rosenthal, c'est un beau clin d'oeil que la nouvelle soit venue de lui) pour notre hobby: nous entrons donc dans Le Robert. Après des débats sans fin et dont la longueur était inversement proportionnelle à l'intérêt, nous avons enfin une définition officielle et une présence des plus nobles dans la langue française. On pourra se demander si certains ne vont pas écrire aux éditions Robert pour la contester, histoire de faire entrer un autre mot… à une lettre près  et un peu plus haut wink
Que cette année 2017 s'annonce prometteuse!