En ce premier tour d'Horizon de 2016 nous reprenons le cours de nos découvertes et autres nouvelles  de l'imaginaire.
Alors que notre petit monde est en ébullition autour de la traduction de ce qui n'est pas D&D5, la vénérable V1 fête ses 42 ans. Le temps passe assurément et nous ne rajeunissons pas. Preuve en est. pour revenir sur les 2 financements de manière plus sérieuse (et qui sera abordé dans notre partie discussion de notre journal du rôliste), l'engouement est réel et la nostalgie ainsi que l'attraction de Donjons et Dragons sont bien présents. On imaginera bien sur le fantastique bazar si Wizard of the Coast donne la licence officiellement. On pourrait même se dire que cela pourrait vite se produire avec l'annonce du film AD&D, si celui-ci venait à avoir du succès. Pour cela, un vrai scénario sera nécessaire, quand on voit ce qu'avait été le premier. Rien ne ressemble plus à un mauvais film de fantasy qu'un autre film de fantasy.
En tout cas si vous voulez vous une opinion sur nos deux éditeurs qui se lancent dans cette aventure inédite avec un enthousiasme non feint:
Transition toute trouvée pour vous parler de l'ouvrage d'Olivier Lusetti: Comment mieux écrire, raconter une histoire et réussir sa fantasy. Inspiré des « How To » américains, il est le compagnon idéal à « mener une partie de jeu de rôle » des Lapins Marteaux Editeurs, quant au fond de vos parties. En effet, si vous écrivez vos propres parties, tout est réuni et transposable pour ne pas tomber dans la routine et surtout savoir structurer au mieux ses histoires. On y voit les situations dramatiques, l'utilisation parcimonieuse de la magie ou encore réussir son dialogue. La grande force de Lusetti est de citer en exemple des auteurs classiques et illustrer le domaine de la fantasy. Cette dernière est constamment en toile de fond même si son développement  se fait surtout sur la fin. Cela n'est guère gênant pour le rôliste/MJ averti qui connaît déjà ce sujet et qui pourra surtout l'enrichir par l'apport des nombreux conseils et exemples, qui donnent également un paquet d'idées d'histoires. On revient aussi sur quelques notions de français qui sont assez salutaires. Bien trop souvent, notre genre est cloisonné (sclérosé?) par un refus d'aller voir dans le non-fantastique et cela nous prive de bien des idées et d'une qualité certaine. Ainsi vous n'appellerez pas forcément votre scénario/roman « La Couronne de Corail », rompant les formats du « Machin de Truc », autrement appelé « titre de livres dont vous êtes le héros » (La Cité des Voleurs, le Labyrinthe de la Mort, le [lieu] de [sensation de peur]..). Comme vous pouvez le voir dans cette photo du sommaire il y a largement de quoi faire et tout amoureux du beau mot et des belles expressions se jettera dessus. Et si vous voulez vous lancer dans l'écriture, vous avez votre ouvrage d'aide.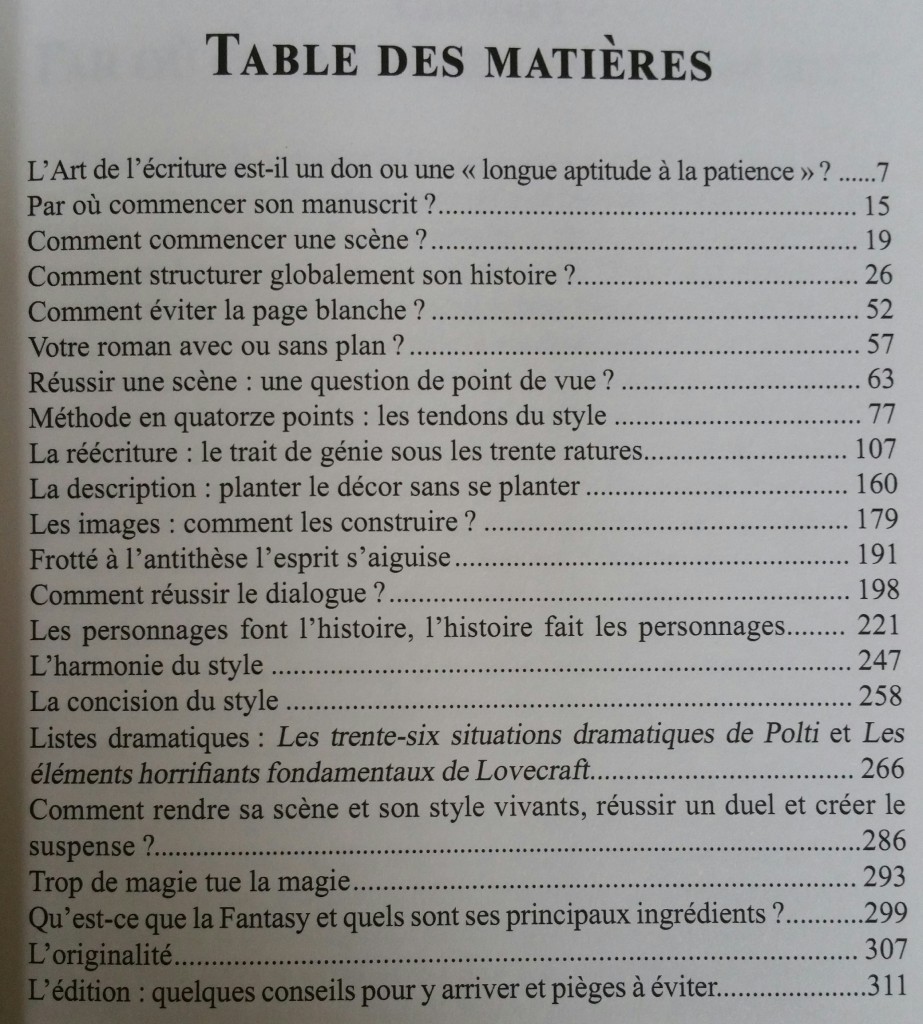 Autre petite perle resurgie sur nos internets hier, le Codex Seraphinianus. On en parlait il y a déjà 2 ans et voici donc ce faux livre érudit à la particularité d'avoir une écriture imaginaire à savoir un alphabet illisible et fabriqué de toutes pièces. MJ de Terra Incognita et de jeux à découvertes, ce bouquin est un régal pour les yeux et enflamme l'imagination, tout en restant admiratif devant celle de l'auteur.
Si nous en parlons aujourd'hui c'est parce que le pdf est disponible gratuitement et ici.
Un autre codex est disponible, plus austère, le Voynich Manuscript, sera aussi une formidable aide de jeu qui date du XVème siècle (Ars Magica et autres Maestres et Magiciens, nous voilà). Le PDF est assez lourd mais pleinement exploitable et pour le moins intriguant..
On terminera par un grand classement des jdr où vous pouvez voter pour vos jeux préférés. Là aussi, foire à la nostalgie (Traveller par exemple..), on remarquera qu'en fin de liste les jeux français apparaissent et que notre communauté francophone est bien active.
Et rien que pour vous, nous avons établi la liste des sorties VF. A VOUS de décider!
Ranker – Lists About Everything